HUMANS
The humans of Esrion are a varied race, from the dark-skinned people of the Southern Deserts to the barbarians of the Bladepeak Mountains. Their professions vary from the strong, hardy warriors to the sunbrowned farmers and trusty fishermen. Though short-lived and weak compared to many of the other races, humans have strong hearts.
Among all of Esrion's inhabitants, the humans have the greatest power of choice.
ELVES
The elven kingdom of Esennia is located in northern Esrion. Ruled by a king and a council of the elder patriarchs, the elves are somewhat xenophobic and keep to themselves. Their society is highly political, but elven adventurers are often to be seen wandering Esrion's lands. All elves are naturally inclined towards good, although evil has taken some into its dark grasp.
DWARVES
The dwarves - a tough and unbowed folk like the stone of the mountains they live in. There are three types of dwarves - hill-dwarves, rock-dwarves, and plains-dwarves. They are great warriors. Their patron god was once Zahd, the goddess of mining and smithing, but she abandoned them for her chosen race, the Srantar.
HALFLINGS
The halflings are a small people, resembling humans. They are carefree, with few scruples, and think nothing of collecting the odd item from passing travelers. Although they are naturally peaceful, they will fight when backed into a corner. Many halflings prefer to live comfortably in their own homes, but some enjoy the no-worries, adventurous life on the road.
GNOMES
Gnomes are like halflings, but taller and stockier, with spiky hair. Unlike halflings, gnomes have organized societies, the most famous being the Brownglade Kingdom of Talonis. Gnomes pride themselves on their technical skills, but their often erratic inventions prove to be more of a danger to their creator than a tool.
MINOTAURS
The minotaurs are a proud race of strong warriors. Any fully-grown minotaur stands above seven feet. Most minotaurs revere Semum, but though their god is evil, their tenets are honorable and they value strength in battle above all else. They were originally from Khanthir, but many have settled in Talonis, sailing in the legendary 'minotaur galleys'.
GIANTS
Giants are huge humanoid creatures varying in size, but most are fifteen to twenty feet tall. There are four breeds of giants: hill, mountain, stone, and frost. Hill giants are the smallest and most brutish, counter to frost giants, who are intelligent and have a highly cultured society. The first three types of giants are common in both Talonis and Khanthir, but frost giants are only found in the cold northlands of Talonis.
OGRES
The ogres are slightly smaller than giants, twelve to fifteen feet tall. What they lack in size, however, they make up in sheer ferocity, manufacturing crude clubs and spears to kill their prey. Ogres, though similar in appearance to hill giants, live in groups of six to ten individuals, whereas hill and mountain giants live alone.
TROLLS
The Trolls are clever and sneaky creatures, though lazy. They are clever, but unlearned. They take pride in tricking or outsmarting others. They often trick travelers into venturing into dangerous areas, or giving the trolls money or food. Trolls usually live alone or with their families in caves, but have no villages or tribes. Troll caves are usually located near water, just as a river or lake, where they can get fish, which is their main source of food. Trolls usually don't take sides or join wars, but care only for themselves. Trolls are broad, with large heads. They aren't physically strong, but with the element of surprise they may be able to take on an unarmed human.
GOLEMS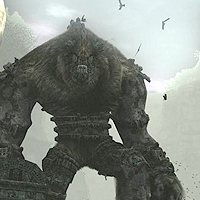 Golems are strange creatures, that vary in size, shape and personality. Golems are built right out of the earth itself, from the elements. There are various types of Golems, including Mud, Rock, Ice, Lava and Iron. Some Golems are fairly intelligent, whereas others are just beasts. Golems can be anywhere from four to thirty feet high.
GOBLINS
Like rats in a ship's cargo hold, the goblins of Esrion multiply rapidly until they are a plague on the other races. None too smart, the four-foot tall humanoids are commonly found in the wilder regions, living in warlike tribes. There are many kinds, but the most common types of goblins are yellow-eyed, red-eyed, scaled, furred, and tusked. Horned and mottled goblins are also common in certain parts of Esrion.
ORKS
Orks are a savage, warlike race, similar to goblins but bigger, stronger, and more intelligent. They serve Semum, god of war, but unlike minotaurs, use any low tricks they can to win a fight. Leadership of a clan is determined by combat, but the real power in the tribes are the shamans - priests of Semum that incite the warriors to a fighting frenzy at any given time.
KYTHE
Kythes have the appearance of a leopard with a humanoid bone structure, although clan leaders are usually a a different breed of kythes known as "maculs." Macul kythes are far more intelligent than normal kythes, and prefer to walk on two feet. Maculs are a few inches taller than the average kythe, have stripes instead of spots, and do not have tails. Cobal kythes, the third breed, have jet-black fur and are nearly a foot taller than other kythes.
SRANTAR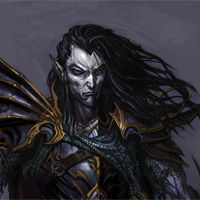 The srantar are the beloved race of the Goddess of Metal. Disillusioned with her earlier creations, she created the srantar. They are seven to eight feet tall, with gray, metallic skin, coal-black hair, and gemlike eyes. Their armor is the finest-made armor in Esrion, but is very rare because any srantar only make a few sets throughout their multiple-century lifetime. All srantar are devoted to their craft and their goal in life is to perfect their skills.
FINIZAR
The finizar are tall and evil denizens of Targosk. They're nine feet tall with sharp teeth and dull skin. They don't have eyes, only dark pools set within their heads, and they hear with two gaps in their neck. The only way how they can die is by having their heart cut out of their body and their body burned.
AQUILAS
Aquilas are fierce, honorable warriors with the heads and feet of eagles and the arms and torso of a muscular humanoid. They stand six to seven feet tall and have large wingspan. The aquilas have a close relationship with griffins, their cousin race. Although it is not easy to befriend an aquila, as you must earn their respect, their friendship is lifelong.
ALFARIN
Alfarin are the servants of Iana. They resemble elves with great wings coming out of their shoulders, and they glow with a celestial light. They don't have legs, but float several feet in midair. They wear masks, symbolically shielding themselves from Iana's glory, and the only time they appear on the Plane of Choice are when sent by the goodly gods to aid the righteous.
CARCANITHS
Native to the tropics of Khanthir, the carcaniths are savage creatures resembling a lizard with a humanlike bone structure. They live in a tribe system and coat their weapons with their own venom. Not much is known about this isolated race.
VAMPIRES
Vampires were created by Lomion, a dark and evil race that feed on blood. They are the same size and humans, with red eyes and dark skin and hair. The most powerful of their race, Nócir, made a deal with the god and traded his soul. Out of his soul came twenty winged vampires with pure white skin. The Álfíri, as they were called, were much stronger than ordinary vampires and were immortal unless killed. The offspring of a vampire and an Álfíri is a Denteinight.
DEMOKS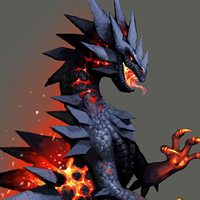 Demoks are filled with hatred and a desire for destruction. Long ago, their race was nearly destroyed in a 100 year war long ago. The surviving few retreated into the darkest deps of Esrion. These creatures seemed to have skin formed of molten rocks and black crust. There backside, eyes, and wings emit flames consistently. Their appearence is similar to a dragon except for these differences. These creatures are large, being around 50 ft tall. There are a few artifacts scattered around Esrion believed to have the ability to call the Demoks back to the world's surface. The mighteist of these creatures is Drendel the Great.
DALAIN
A resilient and strong race, the Dalain make their home on the small continent of Brishnar. All Dalain are tall, about seven feet at the tallest, and agile and thin. However, the color of their skin depends on their clan. The Mountain Clan has dark blue skin, the Forest Clan, brownish, and the Wastes Clan, pale or grayish. At one time, in the distant past, the clans fought one another for supremacy. Now, however, the clans are united under the banner of the Pale King.
AUXIRI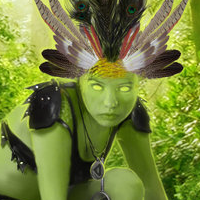 When Zair Nahal commanded the gods to make their own races Tali, Goddess of Mountains, created the auxiri. But she forgot them and the auxiri thought only about the forests they lived in.They revered the nature, and treasured it, and that was the reason that Leyl, the goddess of Nature, started to love them. Every month the auxiri had a ritual for the nature. But when time passed Lomion sent his orks to destroy Holferin, the wooded island of the auxiri.
ANUBITES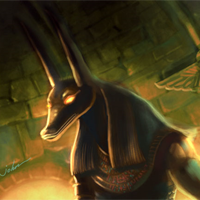 Anubites were created by Lomion somewhere in the middle of the first war, to aid his race in war. But because Nahal allowed the Gods to create only one race, and Lomion newer asked him for his approval, Nahal decided not to give his second race a soul. But soon Lomion discovered that he could command them with the strength of his will. And so the anubites, mindless creatures of soulless darkness, started spreading fear and death through Esrion. In later ages some of the Anubites got a soul and they joined the Dawa nation.
LYRK
Lyrk are insect people. They were created by Semum during the first war. The lyrk are creatures of destruction, designed as a weapon, not as a race. They have no souls, but only act instinctively and follow their own nature. At first the lyrk were very successful, and won many battles in the war, but then Semum lost control of them. They began to destroy everything, even each other, until they grew so few that they instinctively took refuge deep underground, under the desert of Nejeb. This ended the first war.The lyrk live deep under the earth until awakened, when they spread rapidly and destroy everything in their path, but eventually destroy themselves except for a few who will go back underground. This has happened several times during the world's history.
NARNSIR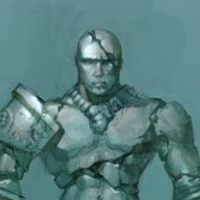 Narnsir are guardians, created by Tali. The time of their creation is marked as 2002, in the second age, but they were not seen by mortals until later, when they came to protect the world form the Lyrk. When Razin foresaw the second awakening of the Lyrk, she asked Tali to make a race to protect the people of the world from the terrible wrath. Tali made them in the mountains near the Lyrk's resting place, the Desert of Nejeb. There they slept until the time of the Lyrk's awakening was at hand. Razin's winds were always at hand in the peaks of the mountains, ready to wake them when the time of the Lyrk came near.
ZEAVUR:
Zeavurs are the second race or Harun. They're originally good, but they may look evil, however not few have been corrupted by Lomion, the Darkness. Zeavurs have both lungs and gills, but are mostly underwater. They have the head of an hammerhead-shark and their arms are the scissors of a crab, they've normal feets. While underwater, they ride on sharks.
TAL-BAHAR:
The tal-bahar were originally humans but when Semum tried to corrupt them they were changed in the tal-bahar, or waterfolk. They have the ability to live on land and in the sea as well. On land they look as all humans do, but as soon as water touches their skin, they turn into half-humans, half-fish, with the human upper body and a fish tail. They built many cities in the deep waters, and they often go to visit their relatives, the normal humans on land.
SPECTRAS
Spectras are men who were turned into spirits by Iana because there evil deeds. They are immortal and cannot be killed by weapons. They are scared by light and are destroyed by the light of Iana. When a Spectra dies his spirit goes to the Chambers of Iridos.
Fairies:
Fairies are small elf-like creatures who are mostly two heads smaller than a Halfling, the Star-Fairies are an exception of this. There are four groups of fairies: Tree-Fairies, Star-Fairies, Ice-Fairies and Lake-Fairies. They are famed in whole Esrion, however not by war but by there prophesies, but many think they're fake.
Cyclops:
Cyclops are one-eyed men who are the same length as humans. Cyclops are the descendants of Morok, the Morogian, and Cyclia, the Half-God. Their mental four, two womans and two mans, were the first of all Cyclops. Cyclops inhabit Talonis and Khantir, their greatest kingdom is Stonevalk Kingdom. The Cyclops did figth in the army of Iridos, one of the Half-Gods.
Thriclops:
Thriclops are three-eyed men who are two feet taller than humans, because of their human-blood. The Forefathers of all Thriclops are Thrios* and his wife Thria, who was also his daugther. The first Thriclop-Clan was destroyed in the Divine Wars and the ones who survived were hunted down by Thriclop-Hunters in the Age of Peace. The last thirty Thriclops were killed by Potos the Hunter, son of Topos Lion-Head, and alone Thresa he let alive, for his father begged him to not kill her. Because his kin was cursed by Ernesa he started to love her and all their seven children were Thriclops. He was killed by Thor, his seventh son, who became the first lord of the second Thriclop-Clan. In the end of the Age of Mistery the Thriclops had enough numbers to conquer almost whole Khantir and invade Talonis and the Sunlands. But they were defeated and almost destroyed, only a few could fled: Some to the tropics of Far-Kuraigth but the most of them fled to the Faremal Isles, between Brishnar and Khantir.
CENTAURS
Centaurs are half-horse and half-human who were created by Gharak, lord of the beasts. Centaurs live in the Dark Forrest, east of the Horse-Plains in Khantir, in clans of 60. They're led be the four Centuri: Cengat (Strongest Warior), Shaman, Grass-Prophet and Star-Prophet. Almost all Centaurs were masacred. Centaurs doesn't like people from other races. The main-weapon of the Centaurs is his bow.
Treants:
[url=http://s190.photobucket.com/albums/z319/Gfire01/Esrion/?action=view&current=treant.png]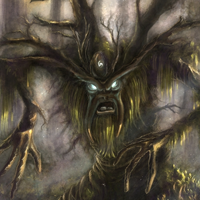 Treants are tree-like people, they live in forests (especially those on Holferin). They were created by Leyl, the nature, and followed Lyenä, daughter of Leyl, into the world to fight for the gods. In ancient times Lyenä was queen of both Treants and Auxiri.
Horneins:
Horneins, more commonly known as the horned giants, are chaotic group of giant-like humans. They live in the dessert of Nejeb. Most travelers would attack these beings on sight, because of their brutish appearance, but they are expert craftsmen and can speak coherently. They do have occasional dealings with humans, but mostly keep to themselves. They tame Dranisks, which look like large ants crossed with beetles. The Horned Giants live in catacombs under the sand's surface, which they have built with fire and magic. They look evil, but upon speaking to one, you will discover that they are intelligent, and even wise. They love crafting, and the only who are better in it are the srantar.
DRAKONS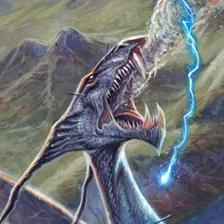 Drakons are of an unknown origin, but it is confirmed that they are related to dragons and are several millenia younger. They are usually either wise or vicious, which mostly depends of the species. They have an enormous wingspan, up to 30 metres and can roll the wings up completely, due to their wing-bones being extremely flexible like rubber. They can't start flying straight from the ground. Instead, they jump up to 10 metres and then unfurlk their wings and start flying. There are three kinds of Drakons: Triogomeron Drakons, Eurycron Drakons and Klardron Drakkons.
WERE-WOLVES: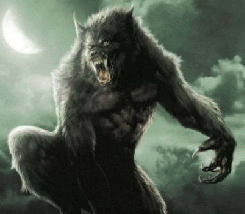 Were-Wolves are a cruel race that are half-beast and half-men. At daytime are like normal humans but when the full moon shines they become uncontrolable wolves. Orginally they were made by Gharak as the Ulfar-y-Gotor, The Wolf-Men, and the sister-race of the Lundrengr. They could change in a wolf whenever they wanted and protected the animals against dangers and evil. But Lomion corrupted all of this strong race and every full-moon they got out of control. The poison of their teeth is deathly against Álfíri.
*TO BE UPDATED*